Lyrica Classic envisions a society that helps the world with discovering a quality of new or unknown music via bringing it on the famous stages and making high-quality productions using first caliber artists, which gives access to the unique social, emotional, intellectual, social benefits achieved through musical excellence and high production quality.
We believe that only through quality performance can be given life to quality art! And through quality, we can attract new generations and bring them the love for classical music!
The mission of Lyrica Classic is to allow undiscovered music to find the recognition it deserves, and allow the public to evaluate the music in full and hear the works
as the composer intended them. Real artists, as well as good music, need its stage and use.
It would be only fair to mention that many musical works are not appreciated because the composers do not have adequate funding to bring the music to life or their music was previously performed poorly and the first impression was irrevocably ruined.
Let us recall the well-known example, Rachmaninoff's First Symphony, which is known today as one of the most beautiful and soul-touching musical works, even to an inexperienced listener. However, how many people know the first production of the symphony was performed badly; the music was spoiled—It was a catastrophe! The critics screamed in indignation that it's impossible to perform such a terrible piece. The composer subsequently became depressed and did not write for three years! Imagine how much the world has lost. We could have had one more collection of his art songs, a couple of concertos or symphonies if not for this ugly performance of his First Symphony, which is now known to the whole world.
The example of Rachmaninoff demonstrates the importance of the quality production of new or unknown music. That is why we believe Lyrica's mission is so essential to humanity, the music community, and future generations. We bring justice to the composers, justice to the music, and justice to the world!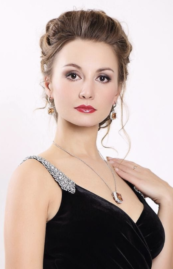 Yulia Petrachuk
PRESIDENT & ARTISTIC DIRECTOR
Ms. Petrachuk studied at Moscow Tchaikovsky Conservatory and is a graduate of Bern Opera Studio in Bern, Switzerland. Yulia is specializing in contemporary operas and other forms of vocal music of the 20th century. She performed many World and US-premiers. As well, Ms.Petrachuk, through her teaching studio, instills the love for classical music to new generations. Ms. Petrachuk has robust experience in international performing art projects', execution, and collaborations in the USA and EU. Out of her passion and drive to sustain and give the less- or unknown music a voice, Ms. Yulia Petrachuk founded Lyrica Classic Entertainment to be are sounding beacon to deliver superior level results and presentation of the music.Beyond her leadership, Yulia is an active performer and a soloist of many famous venues as Salzburg Mozarteum in Austria, Carnegie Hall in NYC, Gotha Theater in Germany, Musikvereinin Vienna, Bolshoi Hall in Moscow and others.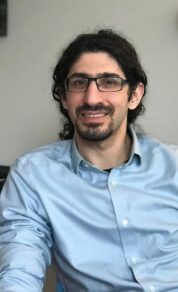 Carlo Mahfouz
TREASURER & CIO/CSO & CHIEF INNOVATION & STRATEGY OFFICER
Carlo Mahfouz is a seasoned operations specialist with vast experience in technology and digital media. Mr. Mahfouz has an executive MBA from Georgetown University and over a decade of digital media and strategy experience. Mr. Mahfouz has worked in healthcare Ed-tech for a decade where he has managed and implemented innovative products and services. In addition to Lyrica Classic, Mr Mahfouz is Director of Platform Technology at Laerdal Medical where he provides alignment, execution, communication and change management for Laerdal Medical product platform strategic portfolio. An amateur opera singer and classical guitar artist, Mr. Mahfouz has a passion and drive for the classical arts.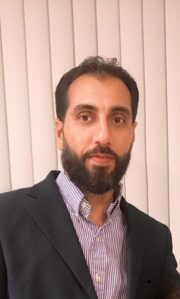 Farhan Ghrairi
DIRECTOR OF FINANCE & ADMIN
Farhan Ghrairi joined Lyrica Classic Entertainment as a Director of Finance and Administration. He received a BA in Accounting / Business Management from Al-Turath University, and Work Development from Harvard University. He is working at Harvard Art Museums, and Faculty of Arts and Sciences at Harvard University. Farhan has professional background in accounting, he spent over thirteen years working in the INGO sector managing large grants related to community development, health, microfinance, youth programs, and livelihoods projects. Farhan has written finance policies, and training materials on organizational andproject management topics. He is excited to join Lyrica Classic Entertainment and help with raise additional resources for its important work.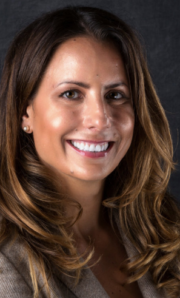 Rachel served the US Navy as a Healthcare Administrator specializing in Medical Logistics from 2012-2017. She received her B.S. in Business Logistics from Pennsylvania State University, a M.S. in Exercise Physiology from the Citadel, a M.P.H. from Johns Hopkins University, and a Ph.D. (ABD) in Bioenergetics from East Carolina University. Rachel is currently the class president for her Executive MBA programs at UCLA, a Veterans in Global Leadership and Focus Forward fellow, and an Aspen Institute Socrates Scholar. She is passionate about social impact and in her free time she provides pro bono consulting to Stage 6, a social impact franchise accelerator working to address the United Nation's Sustainable Development Goals. She is the founder of the Empowered Women Brunch, which connects and inspires individuals who are investing in enhancing their personal and professional lives. Additionally, Rachel volunteers with Veterati and American Corporate Partners to provide one-on-one mentoring and guidance to military members who are either transitioning or struggling to find meaningful work. She also serves on the Board of Directors for Lyrica Classic, a global non-profit that allows undiscovered music to find the recognition it deserves. Rachel has spent the past 20 years studying human physiology, cognitive neuroscience, bioenergetics, and the mind-body connection. She is currently working on a new business venture to connect people with resources to improve their physical, mental, and spiritual wellbeing.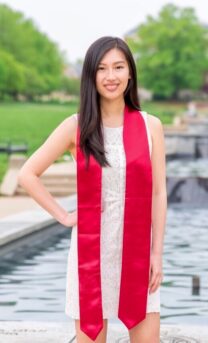 Angela Wu
COPYWRITER AND EDITOR
Angela Wu is currently a student at the University of Pennsylvania Law School pursuing her Juris Doctor (JD) degree. At Penn Law, she is an Associate Editor on both Law Review and the Journal of Law and Innovation. Angela is also concurrently enrolled at the University of Pennsylvania School of Medicine as a Master of Bioethics (MBE) candidate. She is expected to graduate with both a JD and MBE in 2022. Prior to law school and graduate school, Angela attended the University of Maryland as a full-ride Banneker Key Scholar and a member of the Honors College. She enjoys playing instruments, including the violin and viola in her free time and is excited to help further Lyrica Classic's mission.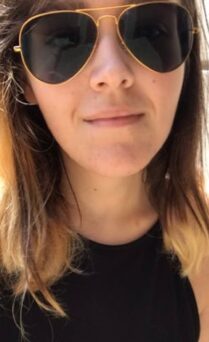 Cheyenne Martin
SOCIAL MEDIA DEVELOPER &
PRODUCTION ASSISTANT
Cheyenne Martin is a senior at Georgetown University majoring in History with two minors in Jewish Civilization and Government. She is currently writing two theses about the social effects of music and music culture. She manages the social media and music research for the organization Lyrica Classic. What she loves most about classical music are the various connections it can have to genres across the spectrum and how even a simple piece can bring people together. In her free time, she is learning to play the piano.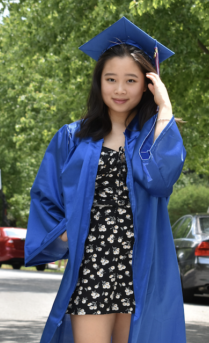 Amilee Huang
WEB DEVELOPER
Amilee Huang is a freshman at the University of Maryland and a part of the Integrated Life Sciences Honors program. She is interested in medicine and healthcare, but throughout her life music has been a major influence. She played the piano since age six where she has performed nationally in the United States and internationally. Amilee is excited to join the Lyrica Classic team and help Lyrica Classic enrich the world with unknown classical music and artists.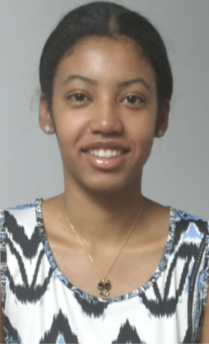 Caitlyn Seale
ASSISTING IN GRANTS' RESEARCH
Caitlyn Seale is a current student at Charles Sturt University, specializing in Librarianship. She has an Honours Bachelor of Science from University of Toronto, majoring in Exceptionality in Human Learning and minoring in English Literature and Biology. She has played piano when she was younger and currently enjoys instrumental music while studying. Caitlyn appreciates being part of the Lyrica Classic team and being able to help further Lyrica Classic's mission.
Access to the benefits of performing opportunities at the top concert venues, regardless of socioeconomic status or recognition in the music world.
Our innovative team is always looking for contemporary solutions to attract new auditorium and make our members experience easy, fun, and exciting.
We originate unforgettable memories for sophisticated tastes.
Always are looking forward to enriching the communities via local chamber events.
Always looking for new projects and discovering new talents around the world.